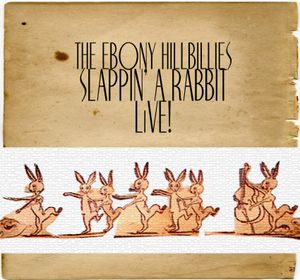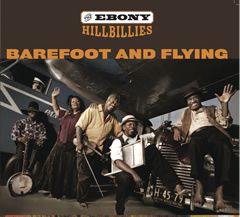 THE EBONY HILLBILLIES
SLAPPIN' A RABBIT - LiVE!
"A FOOT STOMPIN' OLD TIME SET OF ORIGINALS, CLASSICS AND EH FAVES PERFORMED LIVE IN CONCERT BY "THE FINEST (AND LAST) AFRICAN-AMERICAN STRING BAND IN THE WORLD!" - THE EBONY HILLBILLIES.....-JJ Riley (OnThePorch)
THE BAND:HENRIQUE PRINCE:
VIOLIN, VOCALS
NORRIS BENNETT:
BANJO, MOUNTAIN DULCIMER, VOCALS
GLORIA THOMAS GASSAWAY:
VOCALS, BONES
WILLIAM "SALTY BILL" SALTER:
ACOUSTIC BASS, VOCALS
ALLANAH SALTER:
VOCALS, SHAKER
NEWMAN TAYLOR BAKER:
WASHBOARD 
A.R.:
WASHBOARD & COWBOY PERCUSSION
RECORDED
"ON THE ROAD"

PRODUCED BY AW & THE EH

SPECIAL THANKS:
EH MUSIC, AMBIENT DIGITAL, AW INC., GLAMA, TOM NEHIL, BOB ALLISON, EFA/KALAMAZOO RESA, RICHARD ALDERSON, CHENERY AUDITORIUM, GENERATION CUSTOM DRUMS, GERREN YOUNG, BEN TURNER, DAVID WALKER, BOB BOYD, FUNKADELIC STUDIOS, STEPHEN CEE, PIEDMONT BLUZ, THE EBONY HILLBILLIES MUSIC FOUNDATION.
EH Music 2015
THE EBONY HILLBILLIES
SABRINA'S HOLIDAY

Musicians:
Henrique Prince - (violin, vocals)
Norris Bennett - (banjo, mountain dulcimer, vocals)
Dave Colding - (acoustic bass)

Produced by Archie "Tex" Walker
Engineered by: Stephen Cee for Youngblood 
copyrighted 2004 EH Music Incorporated
The Ebony Hillbillies are not only one of the last black string bands in AMERICA, but they are the only string band based in NYC. Consisting of fiddle, banjo, washboard and bass fiddle, they have successfully created a following that has crossed over to audiences in pop, country, bluegrass, folk, jazz and beyond while maintaining their grassroots credibility. Their 19thcentury string band sound was popular in the 1920's and 1930's. This was a key element in the genesis of jazz and virtually everything after (blues, bluegrass, rockabilly, rock & roll, etc...). Those myriad influences can be heard to good effect on the group's debut CD, Sabrina's Holiday. The disc explodes with fascinating takes on such standards as "Liza Jane," "Granny Will Your Dog Bite" and a particularly edgy interpretation of "Cluck Old Hen" along with a couple of originals and the old folk song, "Shenandoah," which Norris sings with power and passion.
Sabrina's Holiday is also a showcase for Norris' hard-charging dulcimer playing. "The dulcimer fits together with the violin in a different way than the banjo and the fiddle," Rique explains. Rhythmically, it's a completely different sound. [When Norris switches from the banjo over to the dulcimer], it's like 'here we go—now we're a different group!'"
The Ebony Hillbillies' debut CD, Sabrina's Holiday provides a great introduction to a largely forgotten cultural legacy